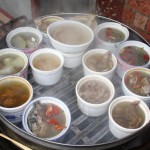 …if you don't speak Chinese, that is of course :).
This post contains 8 tips and 2 restaurant suggestions that might be helpful for non-chinese speaking vegetarians in China.
If you are not vegetarian, still read on! Some of the tips might help you too get what you want in a restaurant and there are some pics of weird Chinese non-vegetarian dishes (or soon-to-be dishes) at the end of the article.
Before we came to China we have been warned plenty of times that China is a quite horrible country for vegetarians to travel in, mostly because the Chinese cuisine is very rich in meat (of all kinds of animals, known and unknown to western taste), very few people speak English and the concept of vegetarianism is almost unknown.
If you are a vegetarian planning on going to China, don't despair! Things are not half as bad as the rumors make them and below you can find some tips that should make getting your belly stuffed easier. Near the end of the article there are also two types of restaurants that are easy for vegetarians to visit.
  (more…)
---