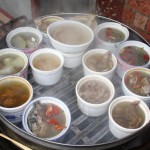 …if you don't speak Chinese, that is of course :).
This post contains 8 tips and 2 restaurant suggestions that might be helpful for non-chinese speaking vegetarians in China.
If you are not vegetarian, still read on! Some of the tips might help you too get what you want in a restaurant and there are some pics of weird Chinese non-vegetarian dishes (or soon-to-be dishes) at the end of the article.
Before we came to China we have been warned plenty of times that China is a quite horrible country for vegetarians to travel in, mostly because the Chinese cuisine is very rich in meat (of all kinds of animals, known and unknown to western taste), very few people speak English and the concept of vegetarianism is almost unknown.
If you are a vegetarian planning on going to China, don't despair! Things are not half as bad as the rumors make them and below you can find some tips that should make getting your belly stuffed easier. Near the end of the article there are also two types of restaurants that are easy for vegetarians to visit.
  (more…)
---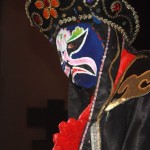 Chengdu is the capital of Sichuan province (wellknown from every Chinese restaurant's menue in Europe) and the 2nd most polluted city in China. Xining is the capital of Quinghai province and dubbed "China's Siberia" due to it's nuclear dumping grounds and gulag-style military prisons. It is also the birthplace of the current Dalai Lama. We had fun there!
We arrived in Chengdu quite early on Monday morning and after breakfast + shower we started to explore the city. We discovered a Watsons – finally a place that sells western-style deos, which are indeed harder to find in China than in other parts of Asia. They only had deos for women, so Felix – who ran out of his a couple of weeks ago – had to take a female lemongrass one but actually it smells quite male and sexy on him : )
---
Yesterday we came back to Guilin after a few days in Yangshuo. Yangshuo is one of the most popular destinations for Chinese tourists, so there is lots of  touristical infrastructure and touts are just about everywhere. One of the first things our host Bruno tought us was "bu jau", which means "don't want" and became our most frequently used phrase, especially in the city center.
Like many other tourists we got there by bamboo boat from Guilin – rather a raft made of some 7 big bamboo trunks with two little benches on it. The 2-hour ride down the Li river was relaxing and very scenic. We got off in Xingping, which is a little riverside town and also the place printed on the 20 Yuan note. From there we took a bus to Yangshuo.
---