A beginner's guide to eating vegetarian in China
…if you don't speak Chinese, that is of course :).
This post contains 8 tips and 2 restaurant suggestions that might be helpful for non-chinese speaking vegetarians in China.
If you are not vegetarian, still read on! Some of the tips might help you too get what you want in a restaurant and there are some pics of weird Chinese non-vegetarian dishes (or soon-to-be dishes) at the end of the article.
Before we came to China we have been warned plenty of times that China is a quite horrible country for vegetarians to travel in, mostly because the Chinese cuisine is very rich in meat (of all kinds of animals, known and unknown to western taste), very few people speak English and the concept of vegetarianism is almost unknown.
If you are a vegetarian planning on going to China, don't despair! Things are not half as bad as the rumors make them and below you can find some tips that should make getting your belly stuffed easier. Near the end of the article there are also two types of restaurants that are easy for vegetarians to visit.
The tips
1) Get "i am vegetarian" or "no meat, (no fish)" in Chinese script – many guide books offer this in their language/food section. Alternatively ask an English speaking Chinese person (or Chinese writing English person if that's easier) to write it down for you, copy the picture below to the memory card of your digital camera to show it in the restaurants or find another way that works for you. Saying "i am vegetarian" in Chinese was not very successful for us as we covered rather large distances and the pronunciation varied greatly from place to place.
---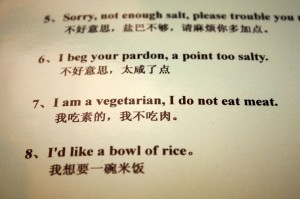 ---
2) Be precise! If you say "no meat" you might be offered something with bones instead (happened to me in Guilin) and if you say "no seafood" you might be served a fish from a lake instead (happened to a friend, although in Thailand). Chinese eat many animals that westerners don't eat, so only ruling out the usual pork, beef and chicken could mean that you are still interested in dog, frog, turtle or bugs.
3) A picture says more than a thousand words. For us, it was usually enough to make sure that our food does not contain meat but the exact dishes were often a surprise. If you don't only want to rule out certain things but also make sure that others are included (or maybe you just follow a more complex diet/taste that makes further details necessary) it might be a good idea to put pictures of the most common ingredients onto your digital camera to show them to the waitress/cook. (Just do a google picture search for "rice", "tomatoes"… and copy the images in jpg format to your camera's memory card.) Or, if you have the chance to, consider getting a copy of Graf's "point it" to save you the work. You can of course also use an online translator to create a basic list of indredients, however it has happened to us that the waiter/waitress could not read Chinese. This is especcially prone to be the case in rural areas with poor education or in aras where ethnic minorities and other languages are predominant.
4) It is not overly polite to walk around the restaurant and poke your nose into everybody elses food, but if you have found no way of making clear what you want, it is still acceptable enough to just go for it. Usually, poining at somebody else's plate + showing your "i am vegetarian" cheat slip should do the trick. Don't try to enter the kitchen without permission, but if invited to go there, by all means do so and sort out your food directly with the cook.
5) If you like something you eat and consider visiting the same restaurant again, take a picture of what you ordered. It might be that the staff remembers you anyway, but if not (and even if) you can just show them the picture of whatever you had last time instead of going through the whole procedure of ordering again.
---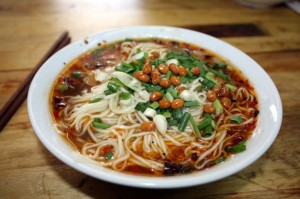 ---
6) Establish the price before you confirm your order. Most places were very friendly and honest with us, but it happened a few times that we only discussed the price of the main dish and suddenly the price for the side rice was way out of proportion or a surprise plate charge was added to the bill. You can absolutely haggle if you ask for a vegetarian dish that's not on the menue and you have the impression the waiter is just making up a (too high) fantasy price. For discussing prices, it usually helps to learn how to show numbers with your fingers the Chinese way – helpful Wikipedia article here.
7) Visit restaurants outside of peak times when staff have more time to deal with you and are less stressed. 8) Find out wich of the plenty boxes of instant noodles are vegetarian (we found pink "sour and spicy" ones). Hot water facilities can be found almost everywhere (hotels, hostels, trains, train stations, public institutions…) and although usually completely vitamin-free, these instant noodles will at least fill your belly for cheap.
---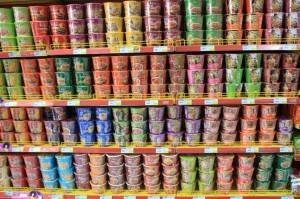 ---
The restaurants
Small, hole-in-the-wall type of restaurants, sometimes located in one or two combined garages which have 1) an open kitchen with a wok and 2) a table with lots of pre-cut vegetables, meat, tofu… next to it. This is by far the easiest kind of restaurant for non-chinese speakers.
---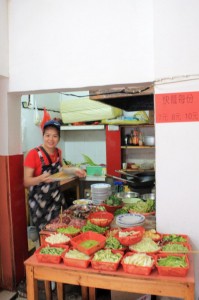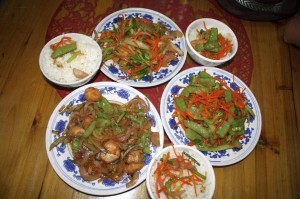 ---
You just go there, take a plate from the staple and put a little bit of everything you want onto your plate. (Tip: Don't take more than 3 – 5 things, less tastes better.) Hand your plate to the cook or put it at the end of the plate queue – the cook will take more of the things you chose, fry them in the wok and have everything brought to your place. In the meantime, locate the bowls (usually in some kind of oven with a glass door) and the rice pot (usually right next to it) and help yourself to the rice. We usually paid around 6 – 8 yuan for a dish in this kind of restaurant.
As far as we found out, this type of restaurant does not have any special name (if you know one, let us know please!) so you can only identify them by their setup. And although almost always we took the ingredients ourselves, once there was an employee doing it for us, so don't get too confused if that happens to you too.
PS: These restaurants are not vegetarian restaurants. So good news, carnivores will find something there too – bad news for strict vegetarians, they usually have only one wok where all dishes are fried one after the other. Good news again, in the restaurants we were we saw them clean the wok inbetween the dishes. Also, there were usually only a few pairs of chopsticks used for all ingredients, meaning that the ucky yucky meat chopsticks were used for the nice little vegetables too (but only before the cooking).
Medium-sized restaurants with (uncut!) ingredients on display on a big shelf or in a glass fridge, usually somewhere close to the entrance or the kitchen.
---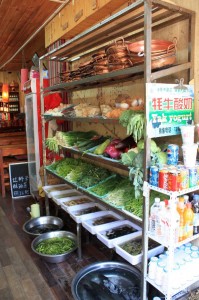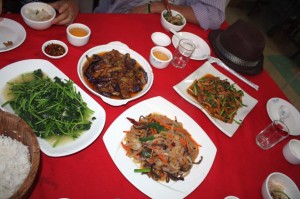 ---
Here you can just explain what you want by pointing on the ingredients. Differently from the first type of restaurant, each ingredient will be prepared as individual dish, so if you point on three things you will get three (usually rather large) dishes. If you want a certain combination of ingredients in one dish, either mime it or get yourself a plate from somewhere and arrange the ingredients on the plate to explain. It happened to us though that some combinations were not allowed by the waiters or the cook but had to be ordered seperately…?
Dishes were between 4 and 20 yuan each for us and ordering one dish per person is usually a good rule of thumb. They are usually served with a big bowl of rice and eaten family style, meaning that the food is placed in the middle of the table and everybody just eats a bit of everything. The more traditional restaurants also serve free jasmine tea.
These restaurants have more proper furniture as well as a big shelf/fridge of food somewhere prominent.